I didn't intent on taking photos of them because my camera is a bit blurry, then I told myself why should I feel shy? So there, the latest goodies I was able to lay my hands on.
Here are the official photos for the products because they are far sharper than mine: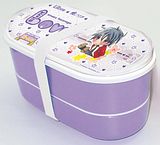 Or my blurrier pictures :
If you'd like, there's a link to the pictures Asuka/Kaze, the French BL publisher, took when the first boxes arrived at their offfice:
the publisher's goodies gallery
.
No Money / Okane ga Nai
(
Shinozaki Hitoyo & Kousaka Tohru
) bento box
( Photos here )
Silent Love / Bukiyou na Silent
(
Takanaga Hinako
) bento box
( Photos there )
Kurokawa is another French publisher who does not publish BL for the moment. But it's been a tradition for a few years that they offer thermos cups for special occasions. It's the first year I've gotten my hands on them, mainly because it's the first year I was interested in obtaining goodies and could actually have them... like the BL bento boxes from Asuka. So I got curious to see what the other publishers were offering.
Kurokawa's version of
Vinland Saga
(
Yukimura Makoto
) and
Chocola & Vanilla / Sugar Sugar Rune
(
Anno Moyoco
) thermos cups
( Photos everywhere )
I'm not even a fan of
Vinland Saga
or
Chocola & Vanilla
. But my parents can use the thermos cups to go camping or picnic. I will keep one for myself since I drink hot tea all day long.
Edit 05/27/2011
I won the mousepad that is offered when you purchase the French version of Be×Boy magazine #11. I will buy several copies of the magazine anyways. I'm still wishing for Asuka to release some Viewfinder goodies. I sure would ruin myself to get as much of them as I can. Nonetheless, the mousepad for this issue is real pretty and I'm a fan of Suzuki Tsuta, so it's fine.
Konoyo Ibun / A Strange & Mystifying Story / My demon and Me
(
Suzuki Tsuta
) mousepad